Get your Tickets for the Beauty by Rosh Masterclass London. All information below, please read. This is a part of the Beauty by Rosh Masterclass World Series 2023 which includes Australia, Singapore, Sri Lanka, Maldives & The UK.
Date & Time: 21st October 2023 at 3pm (please be at the venue by 2.45pm) 
Venue: The Hearth London
Dress code: Smart casual / Dressy
Included in your Ticket: 1 hour Masterclass + Goodie bag worth 30 GBP + Meet & Greet with Pop up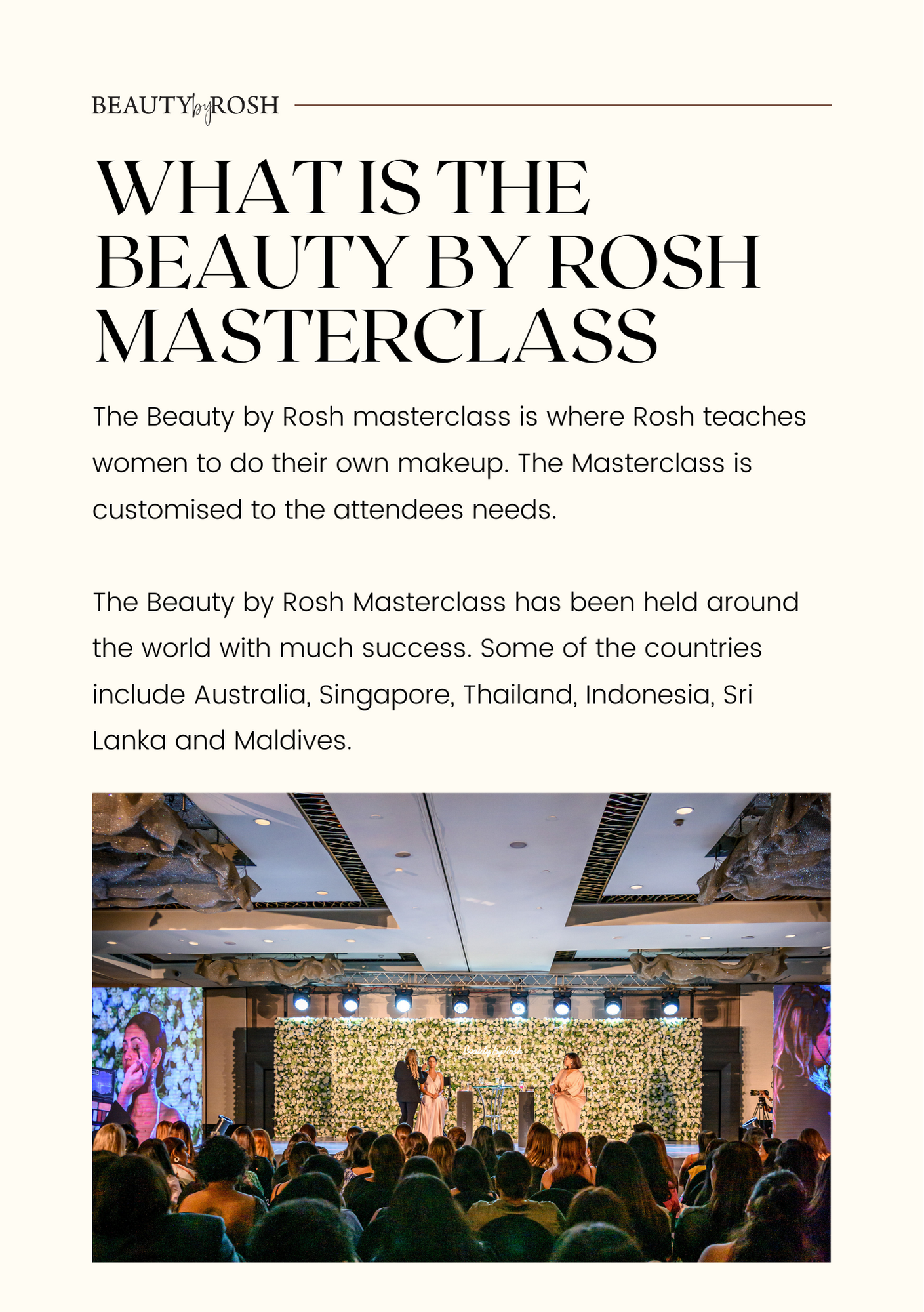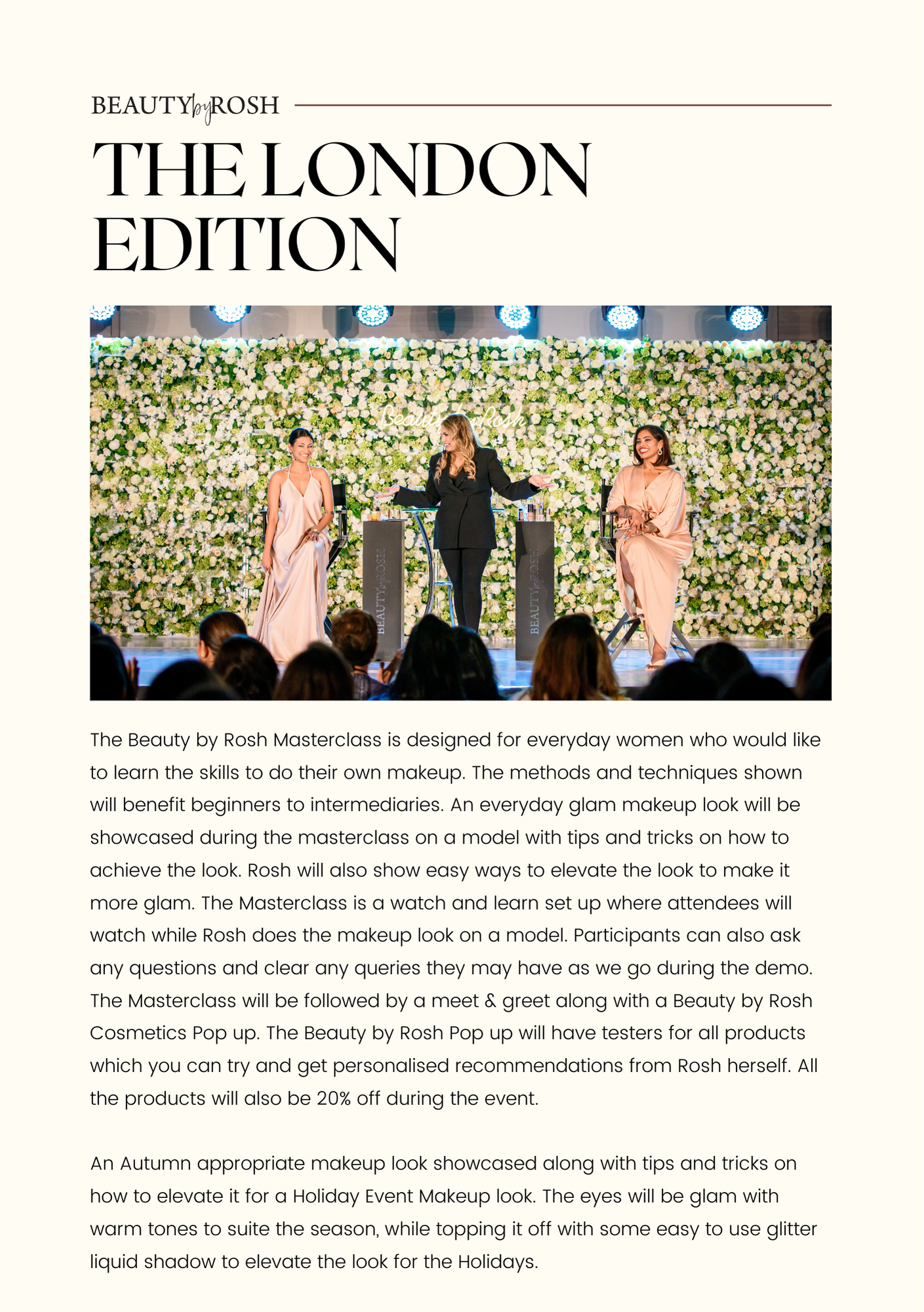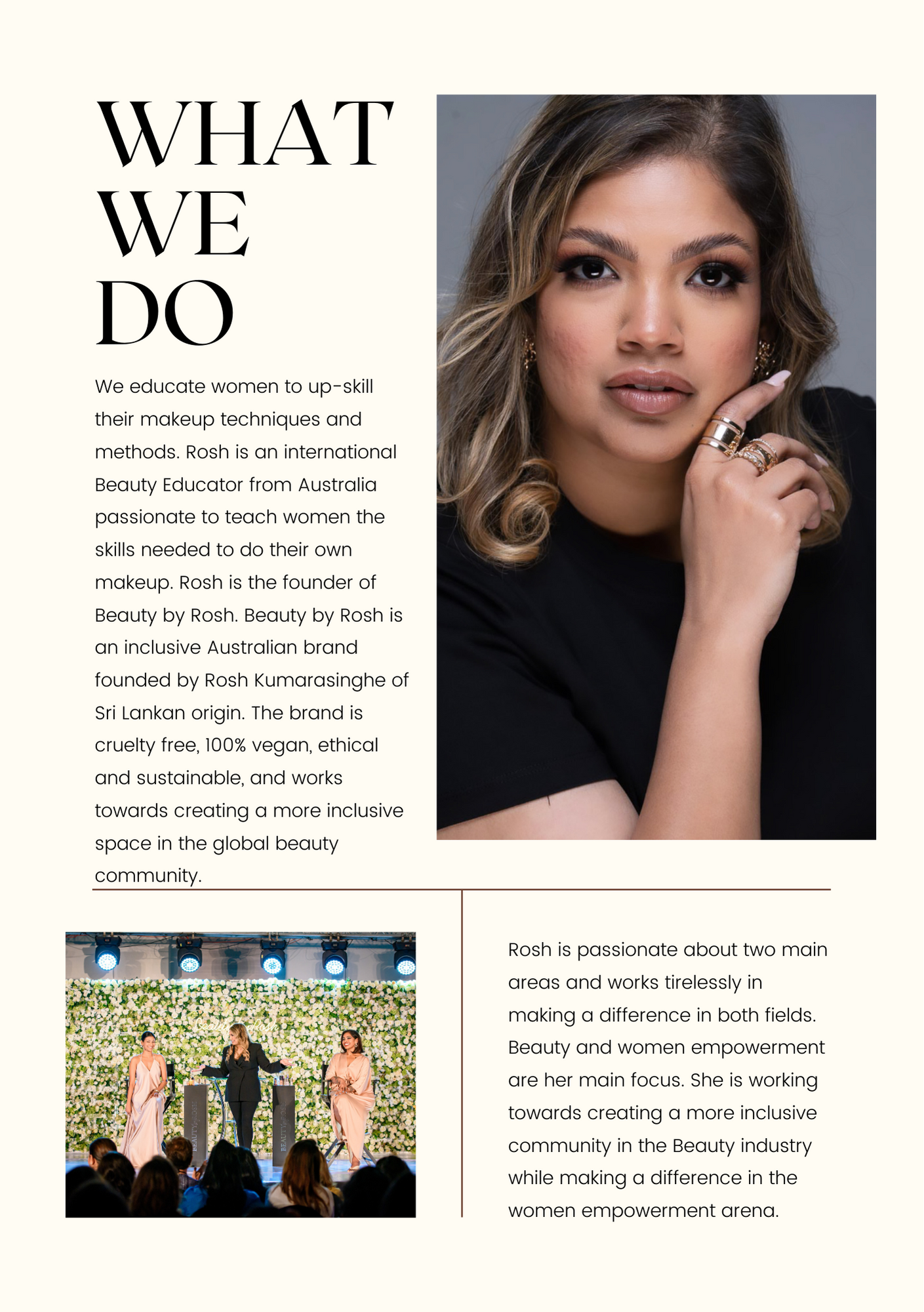 What's included in your ticket:
A 1 hour Masterclass by Rosh teaching you tips and tricks on how to get an everyday glam makeup look
Goodie bag worth 30 gbp (Beauty by Rosh product)
10% discount voucher for your next purchase on our website www.beautybyrosh.com
Meet & greet with Rosh
Wine & Mingle
Beauty by Rosh cosmetics Pop up

Masterclass Education will include:
Eyes
How to get fluffy brows and how to get the laminated brow look using brow wax correctly
Eyeshadow and eyeliner tips & tricks on how to perfect it every time
Winged liner, smudged liner and smoked out liner techniques
False lash application and mascara tricks
Brow and Lash maintenance
Blending 101 powder eyeshadows
Tricks of getting a smokey eye
Building shadows and depth for a contoured eye makeup look
Eyeliner hacks and recommendations
Complexion
How get a flawless base
Primer, setting spray and setting powder explained
An easy Skincare routine and skin prep before makeup application
Powders and creams – how to use and layer
How to use cream blush and cheek tints for glowy cheeks
Contouring and Highlighting techniques to match your face shape – how to place the shades and how to choose the right products and colours
Underpainting techniques, conceal and colour correcting methods
Natural looking base makeup tips & tricks
How to choose the right complexion products for your skin type and concerns
Lips
Perfect nude lips and recommendations on how to find your perfect nude along with some Autumn Lip shade options
Red lips for the Holidays – how to match them to your skin tone and how to get the perfect bold lip
Who is this Masterclass for?
Anyone looking to learn the skills needed to do makeup
Individuals with a passion for self grooming, beauty and makeup
Amateur & Pro makeup artists looking to up-skill, discover new techniques and a another artist's take on makeup artistry
What should you bring with you?
A pen and notepad or an digital notepad if you want to take notes (not compulsory)
Good vibes and your fabulous selves
The Venue:
The Hearth London is located at 16 Lonsdale Rd, London NW6 6RD, United Kingdom. The closest station is Queens Park station, its a 5 minute walk. An intimate venue with a focus on women's growth and wellness.
A space where women can find room for themselves to live, work and feel better. The venue is known for supporting women on their personal journeys as they come into their own. A kind, safe and accepting space, where women are free to be, grow and focus on what's important. Rosh cannot wait to welcome you at this venue.
About Beauty by Rosh
Beauty by Rosh is a global Australian beauty brand founded by Rosh Kumarasighe. With a passion for
inclusive beauty education, Rosh has taken her expertise across the globe through her highly
acclaimed Masterclass World Series. Offering a range of unique high-quality products and
educational resources, Beauty by Rosh aims to empower individuals with the knowledge and skills to enhance their natural beauty. With a focus on catering to diverse skin tones, types, and face shapes,
Beauty by Rosh ensures that everyone feels represented and included in the world of makeup
artistry. Through her World Series, Rosh has captivated audiences around the world with her
passion, expertise, and commitment to inclusive beauty.

Terms & Conditions of your ticket:
Please bring a digital copy of your ticket on your phone when attending the masterclass
Theatre style seating / Free seating (Please be in your seats by 2.45pm)
Your ticket admits one
Tickets at the gate will be priced at USD $70
If you have any questions please feel free to email us on info@beautybyrosh.com